*This blog is sponsored by Gaylord Opryland Resort but all thoughts and opinions are my own.*
If you're looking for family-friendly winter fun then look no further! Starting from January 7, 2022, thru February 27, 2022, Gaylord Opryland Resort is having its Winterfest! We were so excited to be invited to attend this year. As it was our first time attending we were ecstatic to get into all of the activities. Just let me start by saying, we had so much fun! There are lots of winter activities to enjoy. Your winter fun may include participating in the scavenger hunt, driving ice bumper cars, ice skating, ice tubing, and more. I have highlighted each of these winter activities in the following sections. You're not going to want to miss Winterfest at Gaylord Opryland.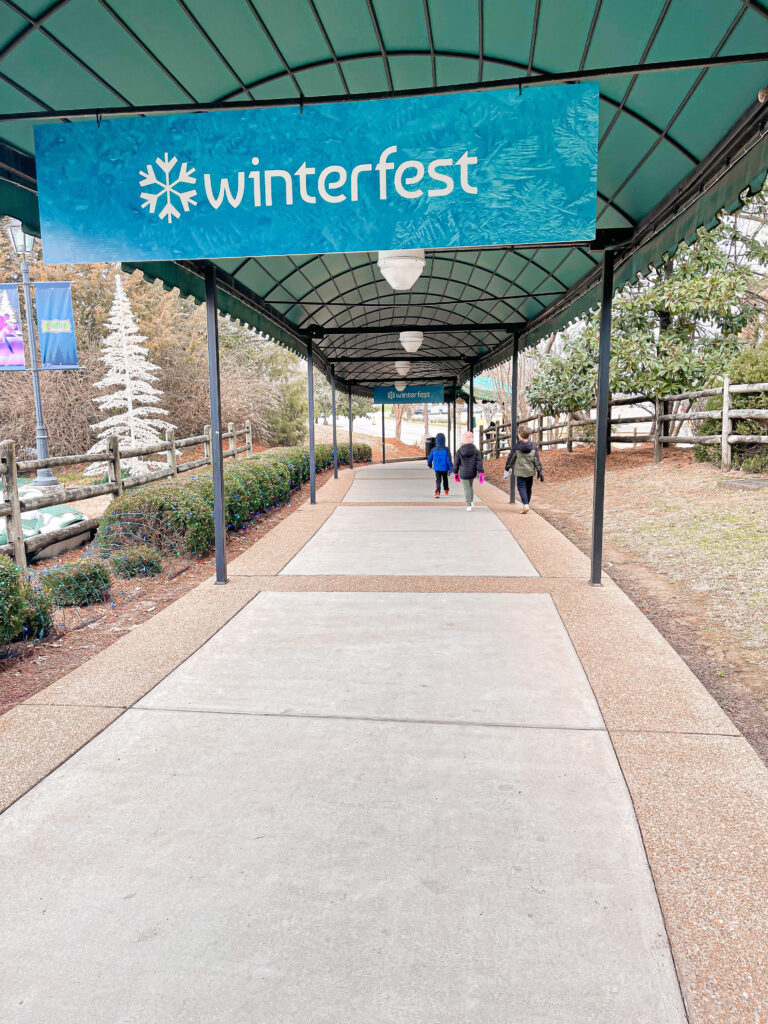 Jack Frost's Frigid Scavenger Hunt
We put on our snowy detective hats to find solutions to polar puzzles throughout the hotel. The Jack Frost Frigid Scavenger Hunt was the perfect way to get acquainted with the resort. The booklet gives you riddles and hints to solve which takes you through the different areas of this large resort. Our kids loved racing through and seeing who could solve the puzzle the fastest. Once you solve each riddle you write it down in your booklet. Once you go through all eight puzzles you take your booklet back to the Frigid Zone for a fun prize for each child. My kids were so excited to show off their completed booklets! While visiting the Frigid Fun Zone, you can also participate in cookie decorating. It's a great hands-on activity for the whole family. We all got a cookie decorating kit that included 2 snowflake sugar cookies, a bag of icing, and candy for decorating. The cookies tasted so good and were the perfect treat after all the winter fun!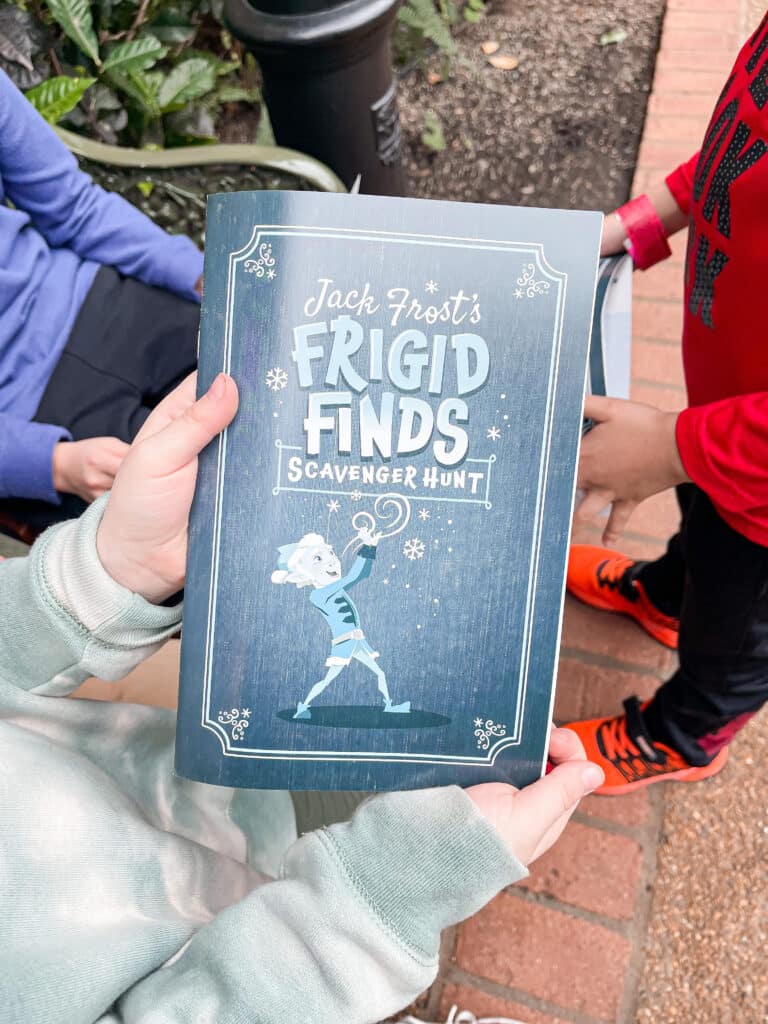 Ice Skating
After completing our scavenger hunt we took a short walk to the outdoor space at Pinetop. One of the activities that we had never experienced as a family before is ice skating! This ice rink is huge at 9000 sq. feet! My kids were nervous to give it a try but they did a great job for their first time. I really liked that they provided these cute polar bear chairs for the kids to have something to hold on to while they skated or they could sit down while someone pushed them. That was really helpful to build their confidence on the ice rink. I wouldn't say we were pros at the end of it but we were slowly getting better at it. It's definitely an activity we want to try again.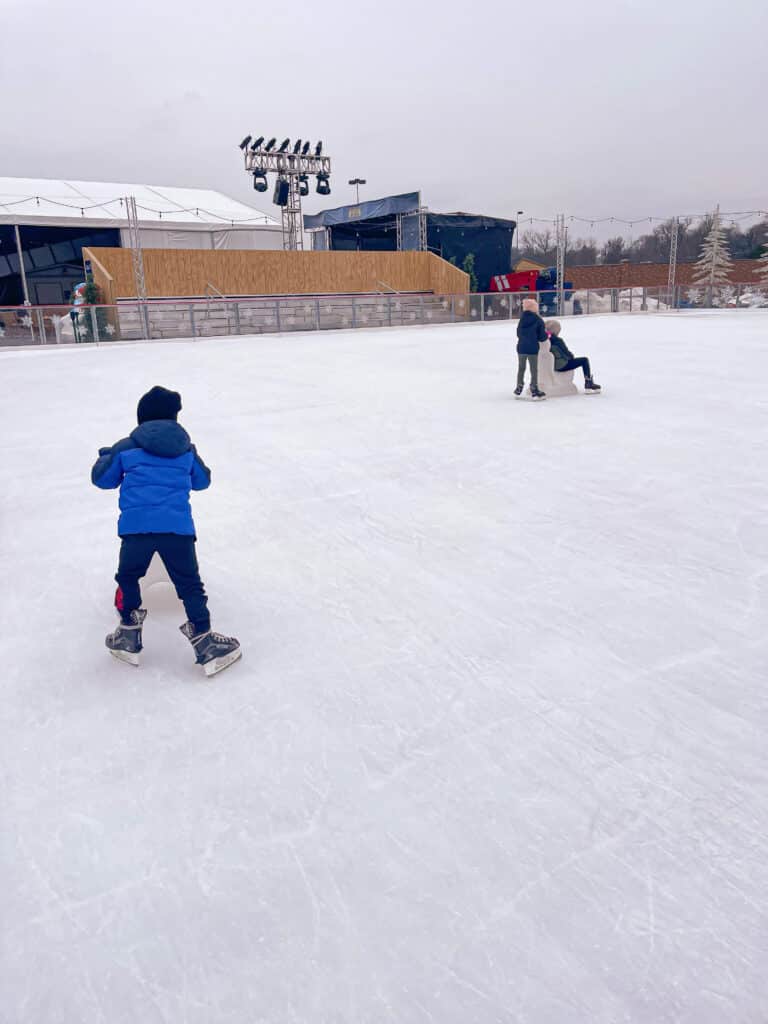 Ice Bumper Cars
Another thing we got to experience as a first for our family is bumper cars on ice! My driving skills on ice have never been the greatest but It was fun to bump into each other and slide around with our cars. My kids are always drawn to driving anything so they thought this was a thrill of a lifetime. We all got our own car and navigating on the ice rink was just as fun as we were anticipating. We are a bit of a competitive family so we took full advantage of the spacious outdoor ice rink and had a friendly competition with the bumper cars.
Ice Tubing
Nothing is as satisfying as experiencing the winter fun like sliding around on the ice. Ice tubing was a family favorite. With four lanes at the Pinetop, you can ice tube down the hill. It is a 15-foot hill that purely consists of natural ice. The hill features four lanes demarcating where each ice tube should pass. Everyone gets their own tube. There are tubes for adults and children. Then you walk up the ramp to the top and someone is up there to help you get situated to go down the hill. I think my kids would have done this all day. They were obsessed! We've gone snow tubing before but this was the biggest hill we have ever tubed down. It was the perfect way to wrap up our time at Pinetop.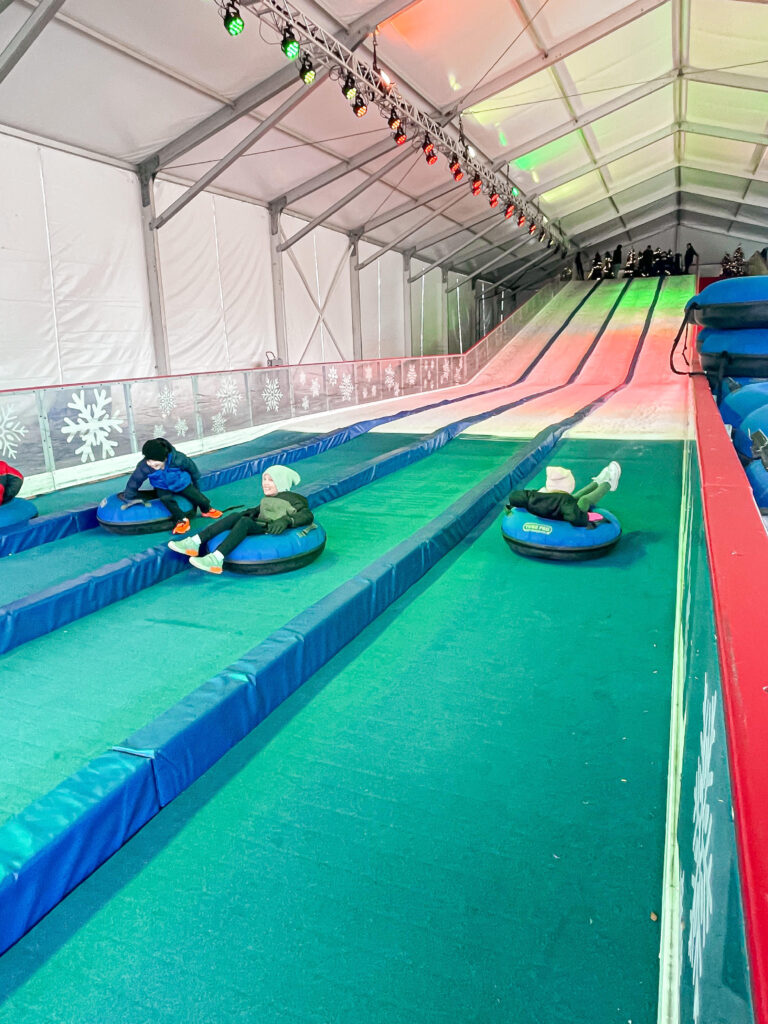 Soundwaves
After a successful day of winter activities, we were so excited to go to Gaylord Opryland's Soundwaves. The Soundwaves is an upscale indoor/outdoor water attraction. Obviously, we only got to try the indoor but it was a blast. It's kept at 84 degrees indoors year around. Some of our family's favorites were the two lazy rivers and the Rapid Remix, which is a mega raft for 4-5 people to go down this huge water slide. They also have a double Flowrider that lets two people surf at once. My kids were still a little too young to try it but hopefully, when we visit again we'll give it a try. I highly suggest visiting Soundwaves if you are at Gaylord Opryland!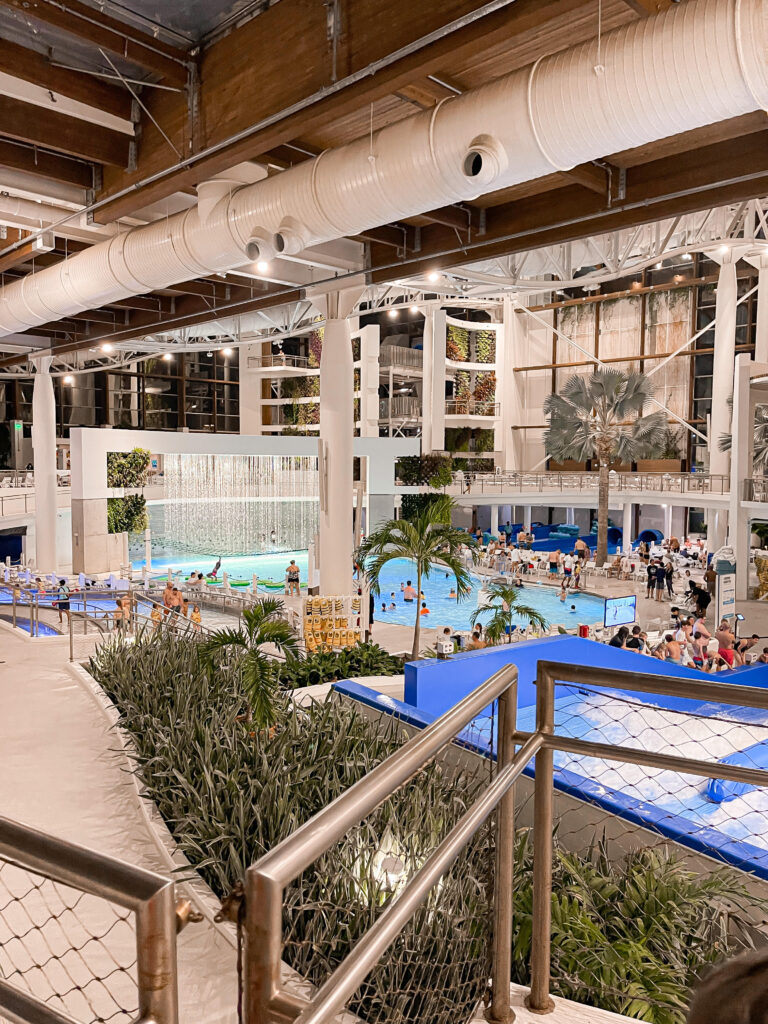 Visiting Gaylord Opryland for this season's Winterfest is the best recreational decision you can make for yourself and your family this January and February. I can't tell you how many times I heard my kids say, "This is the best day ever!" Just those words make it all worth it. I love that the resort offers all the winter fun activities in one place. From the scavenger hunt game, ice skating, riding ice bumper cars to ice tubing, there is no better way of enjoying the winter season. Plus, after a day of winter activities, you can enjoy on-site shopping, top-notch entertainment, and diverse dining options. Gaylord Opryland will be a family favorite year after year! Thank you Gaylord Opryland for hosting our family for Winterfest!
Gaylord Opryland is taking all the precautions for Covid throughout the resort. All staff are wearing masks. There are hand sanitizing stations placed through the resort. For fully vaccinated guests, masks are optional. For unvaccinated guests, masks are required.
Till next time,
Nikki