**Links are affiliated, at no cost to you, I receive a small commission from links! Thank you!
After years of laying in the tanning bed as a teen and young adult, my skin has suffered tremendously. If I regret one thing in my younger years, it's that. Now that I'm in my 30s, I'm dealing with sunspots and a splotchy complexion. None of those are fun things to have to deal with. A few months ago, I started trying different sunless tanners. I bought Tanologist face drops and sunless tanning water from Target. I've been loving the way it gives me that sunkissed look without the harmful UV rays. Tanologist has been a great way for me to get this sunkissed glow!
Tanologist is a self-tanning company that is dermatologically tested and approved. It was founded by beauty influencer Lottie Tomlinson.
Tanologist products are the best because they contain non irritating ingredients, therefore, they don't cause breakouts and are suitable for sensitive skin. All the products have no color guide meaning they won't stain your sheet or clothes.
Some of the ingredients used in their products that give you the best experience are pink grapefruit for toning your skin, goji berry, which acts as an antioxidant, and Juniper for reducing blemishes.
Tanologist has 7 products for the face and body and these are self-tan mousse, self-tan water, gradual lotion, gradual treatment oil, Insta glow, Eraser and Primer, and self-tan drops.
A point to note however is:  These products are not to be used on irritated skin and should not come into contact with your eyes. Seek medical attention or stop using the product if your skin reacts to any of the products.
Self-tanning Water
I've been using the self-tanning water for a few months. I love that it's clear and you don't have to worry about it getting on your clothes. You can spray it on your face to give the perfect glow or spray it after applying makeup as a setting spray. You can also spray it on your entire body for that perfect bronze shiny look. It comes in three shades: Light glow, medium tan, and deep bronze.
Advantages of Self-Tanning Water
The self-tanning water leaves your skin feeling fresh and looking great. Other advantages include:
Applying is easy and messy-free.
It does not cause a drying effect on the skin
It lasts for about 6-7 days
It's used on both the face and the body
Does not leave your skin with blocked pores
It's odorless
How to Apply
First and foremost, moisturize areas like knees, hands, elbows, and feet because they are usually very dry
Spray onto your skin from head to toe then blend with your hands or with a tanning mitt
For the face, spray then blend with a blending brush
 Wash off then wash your hands after the application process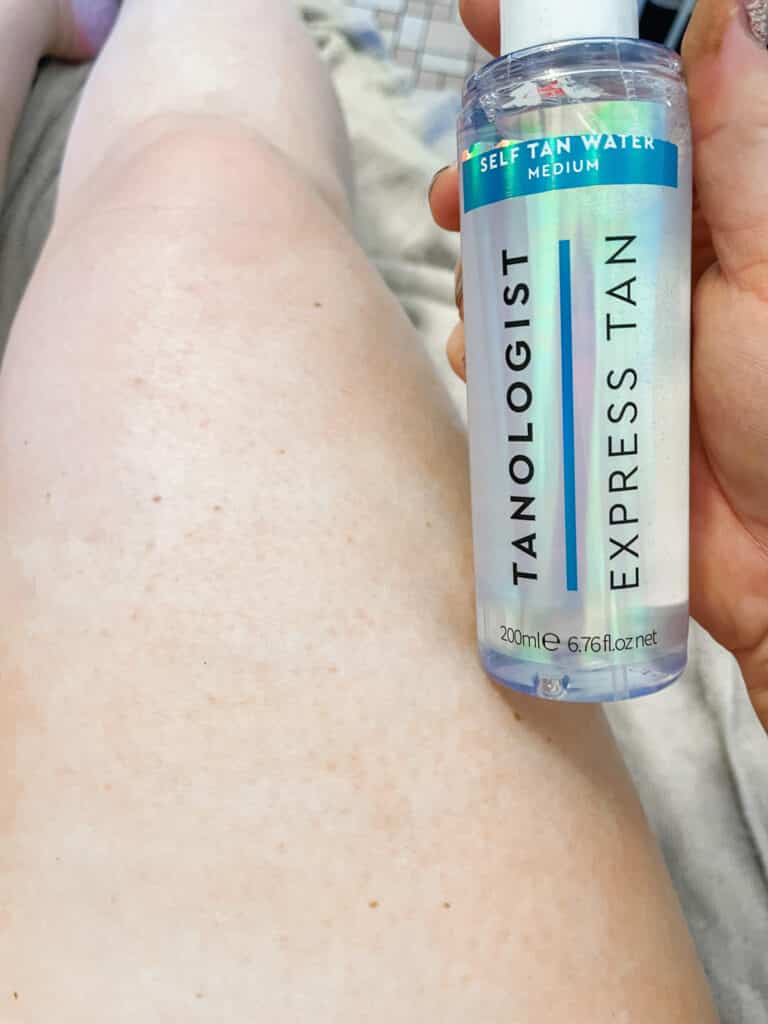 Self-Tan Drops
The other amazing product that I use daily is the self-tan drops. Different from the self-tanning water, this one gives you the liberty to mix into your make-up, skincare, or body care for a nice bronzed finish. The formula doesn't stain your sheets or clothes nor will it clog your pores, but will leave your skin glowing. This product is suitable for both experienced tanners and newbies.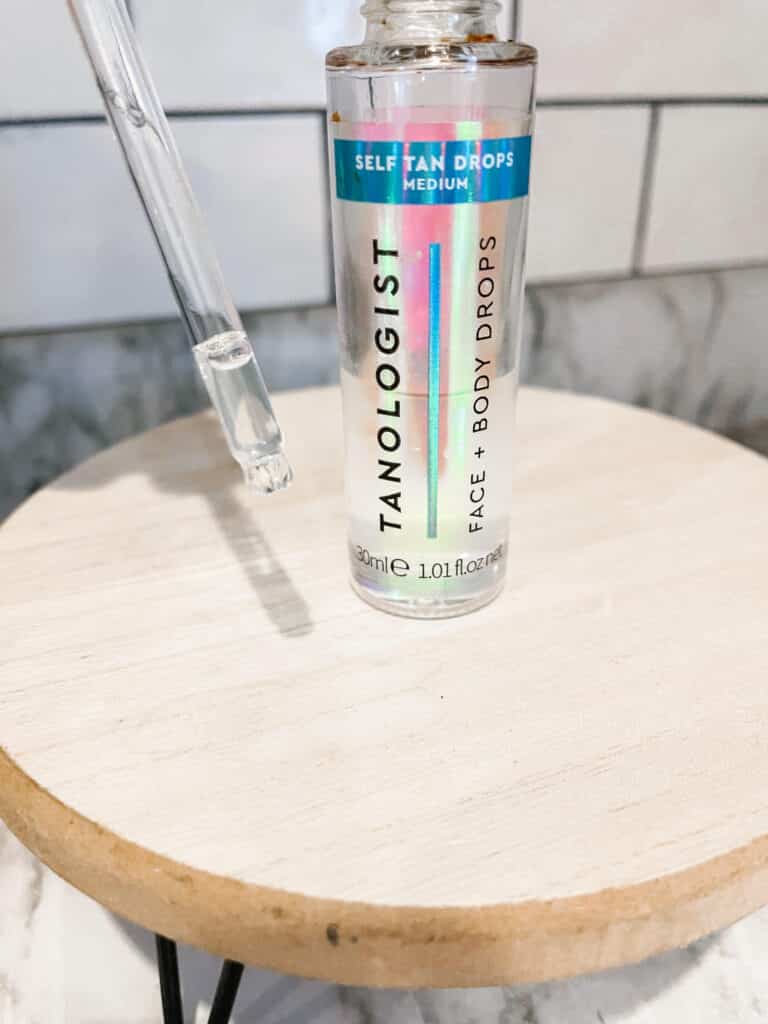 Unlike self-tanning water, self-tanning drops cannot be used on their own because they are very concentrated and are designed to be used with skincare or body care products. Add 2-12 drops to your moisturizer depending on the look you are going for. Our self-tan drops also come in three shades: light glow, medium tan, and deep bronze. Choose your desired shade and remember you can apply and reapply till you get your desired results.
Advantages of Self-Tan Drops
Self-tan drops are perfect if you are going for a personalized experience because you simply have to mix them into your moisturizer. Other advantages include:
They are transparent meaning they won't stain your sheets
They are fragrance free
With tan drops you don't have to worry about breakouts.
It can be used anytime, in the morning or at night
The product does not clog your pores because it is non-comedogenic
How to Apply
First, ensure your skin is dry and clean
Add two drops to your moisturizer, oil or serum and apply on your face
For the body, add 4-6 drops to your body cream or oil per body part and apply in circular motion
For sun tanning: add 20 drops to 100ml of tanning oil and apply before and during sun exposure
If you want a deeper tan you can also try mixing with our gradual tan lotion
Wash your hands thoroughly after application
Gradual Tan
If you want a gradual tan experience, Tanologist has your back. With the gradual tan lotion and gradual treatment oil, you get your perfect desired results
Gradual Tan Lotion
This works like a daily moisturizer on your skin but adds a glow to your skin. This product ensures color builds up gradually without any patches. The color begins to build immediately after application but it takes 2 to 3 days before you can notice the difference in your skin. For a deeper tan, you can mix the lotion with your self-tan drops.
The lotion suits all skin shades and your glow will last for one week and fade evenly. It contains hydrating ingredients which help your skin look healthy and soft.  You don't have to worry about messing and staining your sheets or clothes.
How to Apply
For best results, apply on alternative days as your moisturizer
Apply little portions on hands, knees and elbows
Apply again as needed for a deeper glow
Blend around the neck and hairline
Thoroughly wash your hands after use.
Gradual Treatment Oil
For overnight results, use the gradual treatment oil. You don't have to mix it with your daily moisturizer. You can simply apply it directly on your face. Use this oil in the evening to recharge your skin while you sleep.
It will hydrate, brighten and rejuvenate your skin. You don't have to worry about breakouts because this oil ensures that your skin stays smooth. It's very helpful for beginners and those who want a lighter glow.
How to Apply
Take 6-10 drops, apply directly on your face and massage in circular motions
Color fully develops in 8 hours
For a deeper glow, apply again till you get the desired results
Thoroughly wash your hands after applying
Insta Glow
The insta-glow contains light-reflecting nanoparticles which leave the skin glowing. The formula can be used on both the face and the body. It dries down in seconds and when you apply it, you don't have to worry about water and sweat because it is sweat and waterproof for 24 hours. You can use it like body makeup for hiding imperfections and give you an even tone.
Advantages of Insta Glow
The insta glow as the name suggest is an insta tan and has the following advantages:
It gives you an instant deep color once you apply it.
It leaves you with a brightened and softened skin.
Your tan will last till 24 hours and you can remove it with warm soapy water.
Its packaged in a tube which makes it easy to use and also messy free.
It works for all skin tones
Use can use it as a contour by applying to the areas where you want extra definition
Mix with your foundation to get the desired darker colors
How to Apply
Squeeze the product on your skin or hand and using a mitt, rub it on the part of the body you want to tan
The change in color is instant
It dries in a short while and is water-resistant
Wash hands thoroughly after application
You can easily remove with warm soapy water
Tan Eraser and Primer
If you are looking for a perfect way to remove or reverse your tan, then Tanologist is the right place for you. The tan eraser and primer is a multi-use formula that acts as an eraser to remove all the remainders of self-tan and condition your skin. It also acts as a pre-tan primer that removes the dead skin and primes the skin for a fresh application
For maximum results apply three days after your initial tan application. It contains vegan glycolic acid which works to remove the tan quickly and effectively.
Advantages of Tan Eraser and Primer
The multi-purpose formula has the following advantages:
It is gentle enough to use on the face no need to worry about breakouts
It leaves the skin cleansed without stripping or dehydrating it
It is easy to apply
You can use it as a quick fixer for small mistakes. Try it by putting a small amount on cotton wool and correct a mistake.
How to Apply as an Eraser
Apply to the skin three days after the initial tan application
Leave for 5 minutes
Wash off in a shower
Rub your body gently till the tan comes off
How to Apply as a Primer
Apply to the skin before a tan and leave it for 5 minutes
Wash off in the shower
Apply a Tanologist tan product of your choice
When using it as a primer, apply it to your skin pre tan and your skin will feel fresh and hydrated and ready for a tan.
Tanning Hacks for Maximum Glow Up
Here are the tanning hacks that will help you get the desired glow you are looking for:
Moisturize your hands, feet, elbows, and knees because these areas are usually dry
If you want to shave before tanning, shave your body 24hours before you tan because this allows the skin to settle before application.
Lay a towel down when spraying our self-tan water because this prevents staining on the soles of your feet
To maintain hydrated and glowing skin, use a gradual tanner every day or once a week. It acts as your daily moisturizer but with an added glow effect.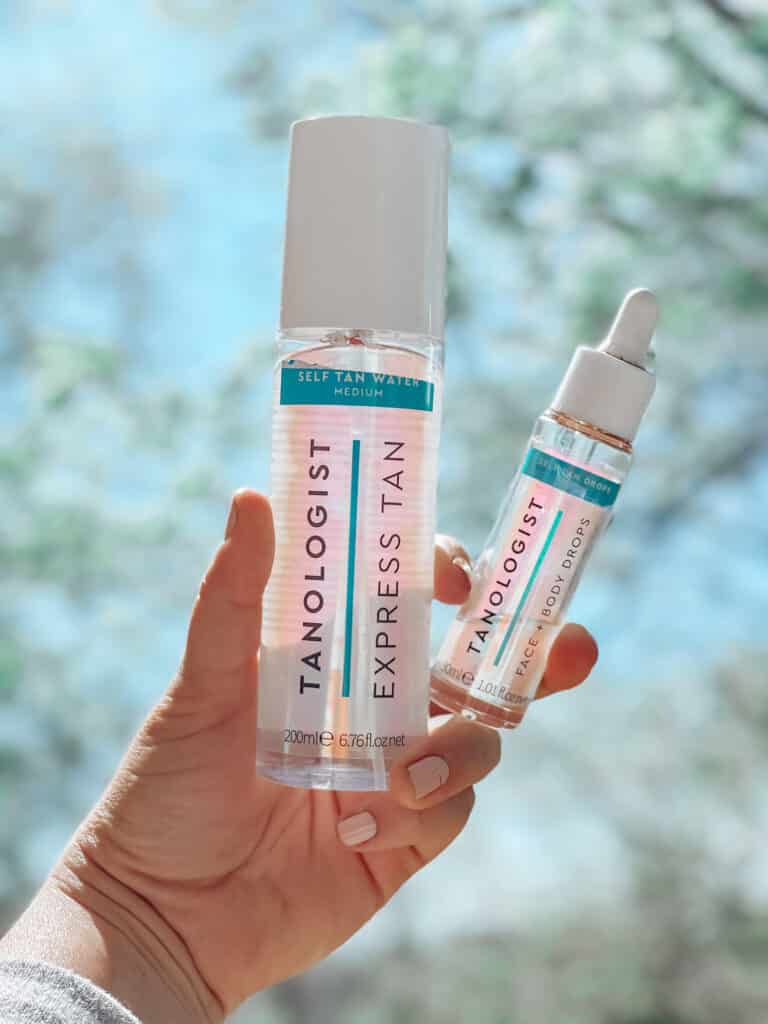 Follow along for more lifestyle content over on Instagram, Pinterest, and Facebook!