Links are affiliated, at no cost to you I receive a small commission from links
My love for cold brew coffee runs deep. On a crisp fall morning last year, after taking the kids to school I went by Starbucks for a pick me up. I noticed the pumpkin cream cold brew on the menu. At that time, my go-to was a hot mocha coffee. On a whim, I decided I was going to try the pumpkin cream cold brew. The rest is history. I've been obsessing over cold brew ever since. As a stay at home mom, I obviously couldn't afford a $6 cold brew from Starbucks daily. Then came my determination to bottle my own cold brew at home.
Things You Will Need To Make Cold Brew:
Cold Brew Coffee Maker
For a long time, I convinced myself that I didn't need a cold brew maker. I bought the cold brews from Target. It just wasn't the same. Amazon had quite a few cold brew maker options and I'd cart them but never would hit the check out button. Have you done that before? I'm bad about it. I finally hit the buy button. It had great reviews and so I was excited to put it to the test. Here's my step by step guide to bottling cold brew coffee at home.
Bottling Cold Brew Coffee
Once, you have your brand of ground coffee you want to use. You take the filter out of the cold brew maker and set it on a flat surface. You will add the ground coffee to the filter until it is full. Place it into the glass carafe. Then you want to slowly add cold water on top of your ground coffee. The glass carafe has a max fill line. I keep adding water slowly till it reaches that fill line. You want to also make sure you're getting all of the coffee grounds wet. Once it is full I then put the top on it and make sure it's pushed all the way down so that there is a tight seal. Then I place it in the refrigerator for 12-24 hours. The longer it sits in the refrigerator the richer the taste. I do a minimum of 24 hours. After 24 hours, I pull it out of the refrigerator and get out everything I need to make my pumpkin cream cold brew.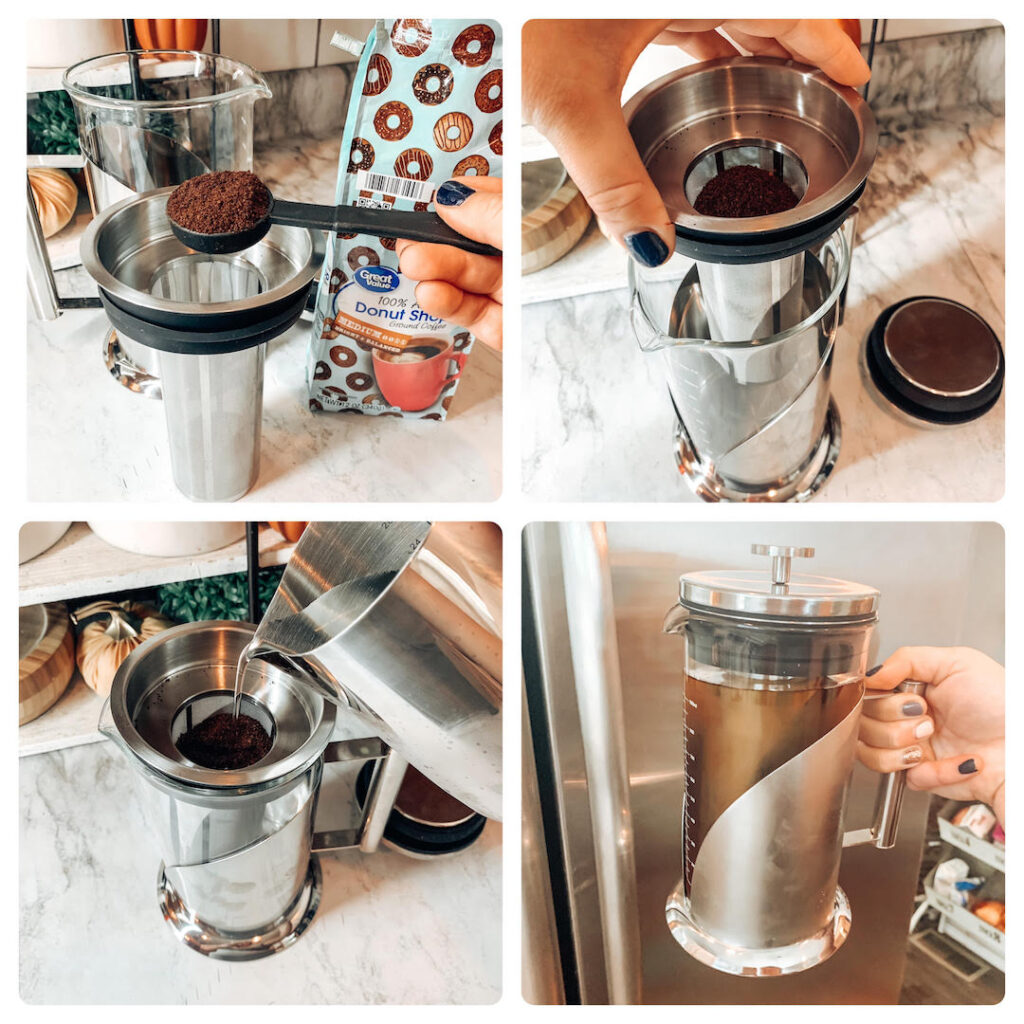 How to Make a Pumpkin Cream Cold Brew
Things you'll need:
I pour my cold brew coffee into my mug. I add a few cubes of ice and a splash of vanilla syrup to my cold brew. I have a milk frothing pitcher and a handheld milk frother. I'm so glad I purchased both. The Zulay Kitchen Milk Frother makes a perfect consistency foam and the Zulay Kitchen Milk Pitcher makes for easy cleanup. I pour 1 cup of heavy whipping cream in the frothing pitcher. I add a couple of splashes of vanilla syrup. Then a spoonful of pumpkin pie filling and a splash of milk. Then I use my handheld frother to mix it all up into a foam. I pour that on top of my cold brew. Then take the pumpkin spice and sprinkle some on top of the foam. Enjoy! (I don't use all of the foam. I save some for the next day. I keep mine in the pitcher and just place it in the refrigerator. That way I'm not having to make it daily.)
Follow my Instagram page for my latest content!